China: BYD Considering Investment Opportunities in Pakistan while boosting the decades-old business relationship. Dr. Gohar Ejaz, Commerce Minister of the caretaker setup in Pakistan recently disclosed that BYD the leading Chinese electric vehicle maker, is showing an interest in possible investment opportunities in the country.
Read more: Fujian Aircraft Carrier
Commerce Minister Mr. Gohar Ejaz issued a statement on the social media platform X (formerly known as Twitter) that a meeting was held with the representatives of BYD regarding their interest in investing in Pakistan. The minister briefed the BYD team about government policies and the SIFC (Special Investment Facilitation Council).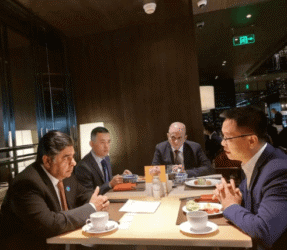 He further assured the BYD representatives that the Pakistani government encourages and supports the companies investing in Pakistan. If BYD comes to Pakistan, then this surely will be a game-changer for the automobile industry in Pakistan.
It will create lots of job opportunities and help the stumbling economy of Pakistan.
Read more: Development Projects in Afghanistan
BYD is the biggest electric vehicle manufacturer in the world. It was founded by Wang Chuanfu in 1995 and in 2022 it outshined the famous Tesla in electric vehicle and plug-in hybrid sales.
The company's slogan is "Build Your Dreams". It manufacturers different types of vehicles such as:
Cars
Buses
Trucks
Forklifts
Electric bicycles
BYD used to manufacture combustion engine vehicles but they announced in 2022 that the company will now focus on electronic vehicles only.
People prefer electric cars over normal ones because of environmental awareness. The company produces different types of passenger cars such as:
(BEVs) Electric Vehicles
(PHEVs) Plug-in Hybrid Electric Vehicles
Read more: Blue World Shenzhen City Lahore
Some of the other leading electric car manufacturers are as follows:
NIO
Audi
Ford
Tesla
BMW
Volvo
Rivian
Nissan
XPeng
Lucid Motors
General Motors
Mercedes-Benz
BYD Considering Investment Opportunities in Pakistan is indeed a good sign for the struggling economy of Pakistan.
Note: The information above might not be accepted 100%. Please verify from your own sources.
For more news, please visit Munafa Marketing.