Hilux GR Sport II Revealed is set to redefine performance and style in the pickup truck segment. This double cab model boasts remarkable towing and payload capabilities while offering a dynamic and imposing design. With enhanced handling and a powerful engine, it's ready for on-road and off-road adventures.
Performance and Capability
The Hilux GR Sport II is a double cab model with a best-in-class towing capacity of 3,500kg and a payload capacity of 1,000kg.
This model offers an even more assertive evolution of the current Hilux's styling and is designed for impressive performance on and off-road.
Read More: Hyundai Santa Fe Launched in Pakistan
Stylish Design
The Hilux GR Sport II stands out with a wider track, increasing the distance between the left and right-side wheels.
The front track is wider by 140mm, and the rear track is wider by 155mm compared to the standard Hilux, giving it an imposing and dynamic appearance.
These design enhancements create a confident and inspiring ride in various weather and road conditions.
Enhanced Handling
The wider track and significant improvements in handling characteristics result in reduced roll angle and more precise steering response.
The vehicle's suspension and brakes have been fine-tuned to ensure a smoother and more stable ride.
Noise and vibration have been minimized, contributing to a comfortable and enjoyable driving experience.
Powerful Engine
The Hilux GR Sport II is powered by the proven 2.8-liter engine, delivering 201bhp/105kW and 500Nm of torque.
It features a six-speed automatic transmission, providing powerful and efficient performance both on and off-road.
Read More: Next Generation Suzuki Swift
Exterior Highlights
The vehicle's design is complemented by striking red coil springs and colored dampers, with black and red elements.
The bold 17-inch black alloy wheels contribute to the vehicle's performance and aerodynamic efficiency.
The black G-mesh front grille with the classic TOYOTA name adds a distinctive touch.
Black detailing is featured on side steps, mirrors, door handles, sport bar, and rear bumper, while a silver front under-run and GR Sport badging complete the look.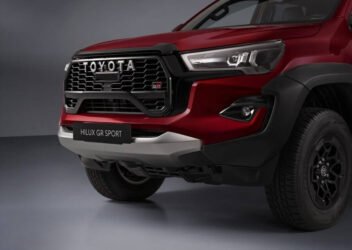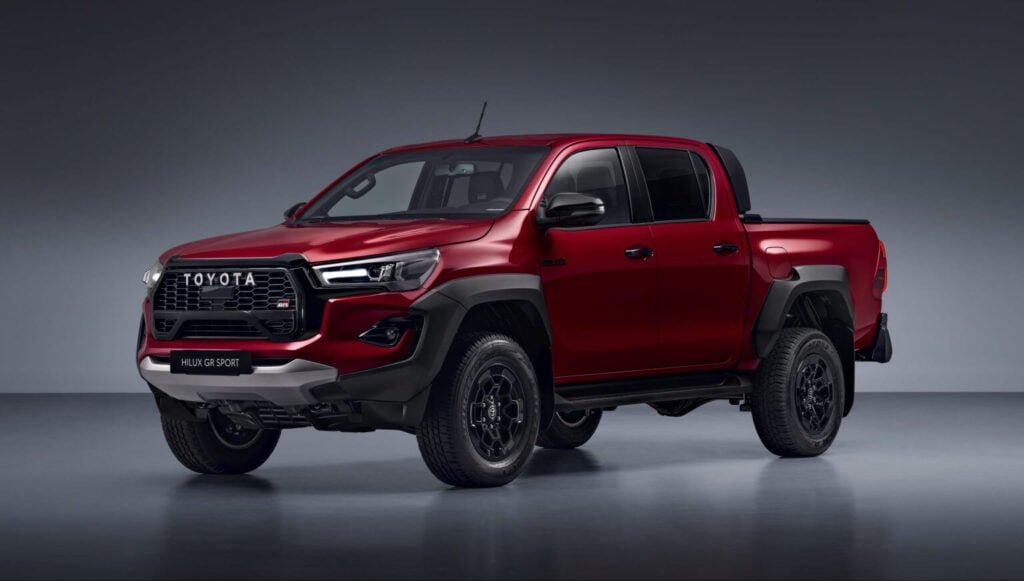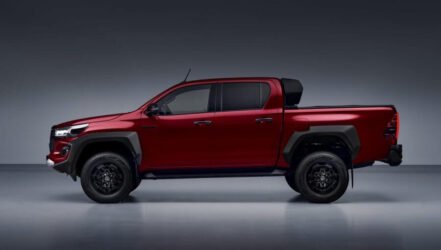 Sporty Interior
Inside the cabin, the stylish black monochrome theme is accented with bold red details.
Red seatbelts, paddle shifts, and aluminum pedals are a nod to the GR Sport's motorsport influence.
The sports seats offer a combination of black synthetic suede and leather upholstery with silver stitching and perforations.
These seats provide both comfort and support, ensuring a secure grip during high-performance driving.
The GR logo is featured in the information display and instrumentation, and there are new-look door trims.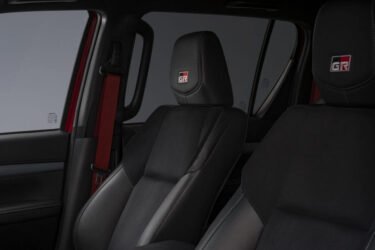 Advanced Multimedia
The Hilux GR Sport II is equipped with the Toyota Smart Connect+ multimedia system, accessible via an eight-inch touchscreen display.
Users can easily connect their smartphones or tablets, either wirelessly or with a wired link using Apple CarPlay or Android Auto.
The multimedia package includes cloud-based journey navigation for efficient and accurate route planning.
An embedded navigation system is available for use when no data connection is available.
Over-the-air software updates are seamlessly delivered through the car's data communications module (DCM), eliminating the need for workshop visits.
Off-Road Enhancements
The Hilux GR Sport II has strengthened its "go-anywhere" capabilities with a 30-degree approach angle, improved ground clearance achieved by raising the ride height by 20mm, and wider front and rear tracks (140mm and 150mm wider, respectively).
Enhanced aerodynamic performance is achieved through a front "air curtain" structure, optimized bumper and fog lamp bezel designs, and an aero-styled sport bar and deck cover.
Improved suspension with new monotube dampers, larger front discs, and new rear discs ensure a smoother and more stable ride over any terrain.
The vehicle is equipped with 17-inch wheels fitted with all-terrain tires for superior braking performance.
Arriving in 2024
The Hilux GR Sport II is set to launch in the second half of 2024.
This model is expected to be the best-driving Hilux yet, both on and off-road, combining unmatched performance and style.
Hilux GR Sport II Revealed is expected to do a good business with new look, color, and features.
For more information, visit us at MunafaMarketing.com