Lahore: Blue Group of Companies (BGC) and Imperial Group of Companies (IGC) have launched many remarkable joint ventures. BGC-IGC Consortium has planned to unveil their new joint venture called "Shenzhen City Lahore".
Read More: Shenzhen City Lahore Payment Plan
This consortium is one of the best and most expanded business conglomerates in Pakistan. Previously they have launched and completed many world-class projects together, so it is expected that Shenzhen City Lahore will also be a state-of-the-art real estate project.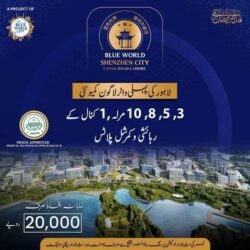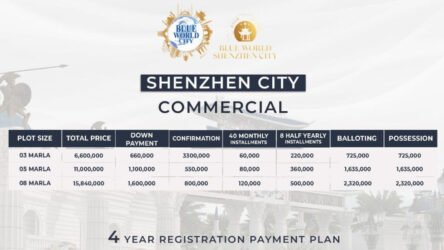 Read More: Blue World City Joint Venture Projects
Some of the BGC-IGC Consortium projects are as follows:
Blue World City
Smart City Lahore
Orbital Apartments
Forces Cadet College
Blue Hills Country Farms
Blue World Trade Centre
Awami Residential Complex Lahore
Blue World Economic Zone Islamabad
Awami Residential Complex Islamabad
Read more: Blue World City Vision 2030
Mr. Saad Nazir, Ch. Nadeem Ejaz & Ch. Naeem Ejaz is determined to take Blue World City to new heights under the Consortium of the BGC-IGC. Their projects are world-class and are built according to the international standards. China-based Shan Jian Municipal Engineering Company has also signed a Memorandum of Understanding (MOU) with Blue Group of Companies.
Read more: Blue World City Cricket Stadium
Blue World City Islamabad is a flagship project of the BGC-IGC Consortium. It is one of the mega residential projects of the twin cities and is spread over 5,000 Kanal of land. They claim that Blue World City Islamabad is the world's first tourist-built city. It is a state-of-the-art project and is designed as per international standards. It will offer all modern and luxurious facilities.
Read more: Blue World City Downtown
The project will offer modern infrastructure and world-class architecture. The developers are offering playgrounds, open-air workout places, green spaces, jogging trails, and bike lanes to encourage more outdoor activities and maintain an active and healthy lifestyle.
The development work at Blue World City is going at a fast pace. This remarkable project is located at the main Chakri Road near Chakri Interchange, having direct access from M-2 Islamabad-Lahore Motorway.
For more information, visit us at MunafaMarketing.com