Lake Shore City Khanpur Dam is brought to you by a well-known real estate company of Pakistan. It is located close to the Khanpur Dam. You can access it from newly proposed Alexandria Road passing from Shah ALLAH Ditta caves and coming from Islamabad Sector D-12.
Read More: Blue World City Balloting 2023
Pakistan's real estate sector is witnessing an exciting addition with the emergence of Lake Shore City.
Lake Shore City Khanpur Location
Located in the picturesque area of Khanpur, Lake Shore City is set to redefine modern living, offering a unique combination of natural beauty and urban convenience. The project is located at GT Road Jabbri close to the Khanpur Dam.
This ambitious project, developed by a renowned real estate company, aims to provide residents with an unparalleled lifestyle experience.
The city is carefully planned to ensure that it coexists harmoniously with its serene surroundings.
One of the standout features of Lake Shore City is its proximity to the picturesque lake. Residents will have the opportunity to wake up to stunning lake views and enjoy tranquil evenings by the water's edge.
Read More: Emaar Canyon Views Islamabad
This proximity to nature is a breath of fresh air for those seeking an escape from the hustle and bustle of city life.
Lake Shore City: A Dream in the Making
Lake Shore City is designed to cater to the needs of diverse homeowners. It offers a wide range of housing options, from modern apartments to spacious villas, ensuring that there's something for everyone.
These homes are equipped with state-of-the-art facilities and the latest in smart home technology.
Furthermore, the city is planned with an emphasis on sustainable and eco-friendly living. Green spaces, parks, and recreational areas are integrated seamlessly into the urban landscape, providing residents with a refreshing environment.
Lake Shore City has also prioritized efficient waste management and energy conservation to minimize its environmental footprint.
Read More: Al Kabir Orchard Overseas Prime
The developers of Lake Shore City are committed to providing a comprehensive living experience. The city will feature educational institutions, healthcare facilities, commercial areas, and entertainment venues, reducing the need for residents to travel long distances for their daily needs.
Lake Shore City Payment Plan
As the project progresses, Lake Shore City is anticipated to become a landmark in khanpur`s real estate sector. Its focus on modern amenities, sustainability, and natural beauty sets it apart and makes it a promising addition to Pakistan's real estate landscape.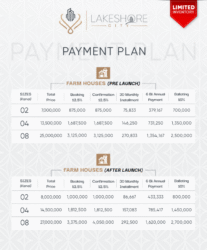 Lake Shore City is on its way to becoming the ultimate destination for those seeking a blend of urban living and natural serenity.
Note: The information above might not be accepted 100%. Please verify from your own sources.
For more News, please visit Munafa Marketing.