Havelsan Full Flight Simulator is indeed a huge achievement for the aviation industry. Credit goes to the Turkish technology and simulation company HAVELSAN.
The leading company proudly announced that they have achieved European Aviation Safety Agency (EASA) Level D certification (the highest level of qualification for a flight simulator) for its Boeing B737-8 MAX full flight simulator.
This simulator will help Turkish Airlines train their pilots with the best possible simulator and produce highly professional pilots.
Read more: National Aerospace Science and Technology Park
HAVELSAN has been producing flight simulators since 2017. This EASA Level D certification flight simulator is capable of providing a realistic environment and mimics the actual cockpit experience for undertraining pilots. The trainee pilots can practice landing takeoff in day, night, and bad weather visuals.
The simulator provides the cockpit system/environment including the movements of the aircraft. The company is working towards obtaining EASA Level D certification for other aircraft like Airbus A320 CEO/NEO FFS soon. These steps will definitely take the Turkish aviation industry towards better.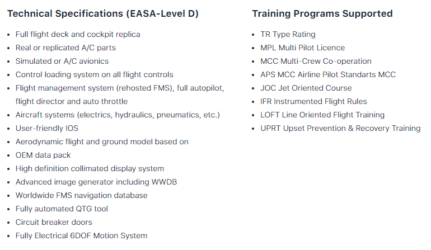 Read more: What is eVTOL?
There are many benefits of training pilots on flight simulators instead of real airplanes:
It saves a lot of cost
It produces less pollution
It is safe for crew and pilot
Pilots can replicate and practice emergency situations
Read more: Russian Jets with Supersonic Missiles to Patrol Black Sea
EASA Level D certification is a top certification for flight simulators.
The most important benefit of flight simulators is that it is a completely safe option for under-training pilots as they can practice in a realistic environment, every kind of flight even turbulence in bad weather and emergency situations without risking their lives.
Read more: Fujian Aircraft Carrier
HAVELSAN was founded in 1982 and 98% shares of the company are owned by the Turkish Armed Forces Foundation. The company is working in the fields of Defense and IT Sector such as:
C4ISR
Intelligence Systems
Naval Combat Systems
E-government Applications
Homeland Security Systems
Reconnaissance Surveillance
Energy Management Systems
Simulation and Training Systems
Management Information Systems
Havelsan Full Flight Simulator is indeed a big milestone for the aviation industry of Turkey.
Note: The information above might not be 100% correct. Please verify from your own sources.
For more news, please visit Munafa Marketing.