UK Announces Landmark 9.8% Increase to Minimum Wage providing relief to inflation stricken people of UK.
In a groundbreaking move, the UK has announced a substantial increase in the National Living Wage, raising it by 9.8% to £11.44 per hour from April next year, reported by the BBC.
Currently set at £10.42 per hour for workers aged 23 and above, this new rate will also be extended to 21 and 22-year-olds for the first time, a decision made by Chancellor Jeremy Hunt.
This policy shift is poised to provide substantial boosts for workers. A full-time employee aged 23 can expect an annual increase of £1,800, while a 21-year-old would see an effective £2,300 rise per year.
Read More: Huge Salary Increase for Govt Officers Announced
Chancellor Hunt had hinted at this wage hike during the Conservative Party conference in October, expressing that the minimum wage was on track to surpass £11 in April.
The confirmed raises represent a 9.8% increase for those aged 23 and above compared to last year and a remarkable 12.4% jump for workers aged 22 and 21.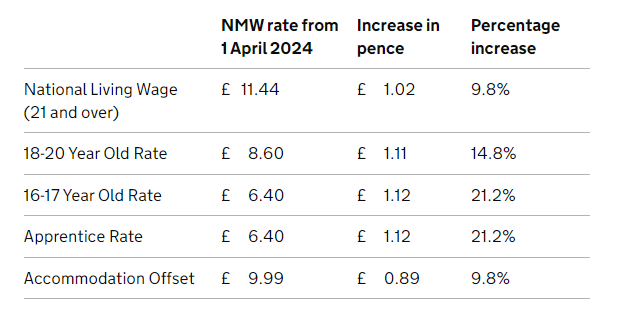 The current minimum wage for individuals aged 21-22, set at £10.18 per hour, will see a substantial increase.
Additionally, the National Minimum Wage for 18-20-year-olds is set to rise to £8.60 per hour from £7.49, benefiting a total of 2.7 million low-paid workers.
Apprentices are not left out, with an hourly pay increase of over 20%, rising from £5.28 to £6.40.
Bryan Sanderson, LPC chair, mentioned:
"The National Living Wage has delivered an improved standard of living to thousands of people who care for our children and elderly, work in farms and shops and at many other essential jobs. These efforts over the lifetime of the NLW mean over £9,000 p.a. more to a full-time worker without any increase in unemployment.
"This hasn't been easy for employers, with the economy facing a range of unprecedented challenges in recent years. The high degree of political and economic uncertainty has made assessing and forecasting the performance of the economy, and therefore our task, very difficult. It is a tribute to my fellow Commissioners that we have continued to achieve consensus.
"Our new recommendation of a National Living Wage of £11.44 attempts to steer a path through this uncertainty and achieve the government target of two-thirds of the median wage, an outcome which if accepted would position the UK at the forefront of comparable economies."
The Low Pay Commission in a press release, mentioned:
"As every year, we heard evidence from employers across the UK about the pressures they faced. Costs in most sectors have continued to rise, and uncertainty has made it difficult to plan for and invest in the future. Small and medium-sized businesses report the greatest concerns, and firms in low-paying sectors are more worried about reduced consumer demand, costs of energy, and the cost of labor than firms in other sectors.
"At the same time, the low-paid workers we spoke to this year painted a picture of growing hardship. Those on the lowest incomes have felt the rising cost of living most sharply. We heard accounts of foodbank usage and indebtedness as targeted support introduced last year began to fall away.
"We believe our recommendation will restore the real value of the NLW, which has been eroded through the recent cost of living crisis. Our judgment is that this increase will not cause significant risk to employment prospects," said the Low Pay Commission. "Alongside the NLW, we have recommended large increases to NMW rates for young workers and apprentices. These increases reflect the strength of the youth labor market and aim to prevent the wage floor for young people being cut adrift from prevailing wage rates in the wider labor market."
Chancellor Hunt's promise made during the Conservative Party conference in October has been fulfilled with this historic wage hike. The government has endorsed the recommendations of the Low Pay Commission, emphasizing the importance of fair compensation for labor.
While the wage hike is celebrated as a milestone, concerns loom in certain sectors, particularly retail and hospitality, about the potential impact on their wage bills.
Similar increases last year prompted apprehensions among businesses, highlighting the delicate balance between fair compensation and the economic viability of certain sectors.
Read More: Nepra Greenlights Rs1.25 per unit Increase in Power Tariff
In a statement, Chancellor Hunt emphasized the positive outcomes of the National Living Wage, stating, "The National Living Wage has helped halve the number of people on low pay since 2010, making sure work always pays."
Note: The information above might not be accepted 100%. Please verify from your own sources. We will not be responsible for any kind of loss due to our content.
For more news, please visit Munafa Marketing.