Top Tourist Places to Visit in Gwadar are going to convince your thoughts to tour Gwadar at least once in your lifetime.
Gwadar, a pristine city in Balochistan, Pakistan, has recently gained prominence due to the China-Pakistan Economic Corridor (CPEC).
Situated at the southern end of the Balochistan province, Gwadar boasts a strategic position along the Arabian Sea, evolving into a critical economic and geographical seaport in Southeast Asia. It is pertinent to mention that the Gwadar Development Authority (GDA) also plays a vital role in the development of Gwadar to modern principles.
Read More: Schengen-Like Visa for UAE Saudi Arabia and Other Arab Countries Soon
Tourist Attractions in Gwadar: Top Tourist Places to Visit in Gwadar
Zalzala Koh Island: Nature's Response Discovered after a seismic event in 2013, this island, 350 ft from Gwadar, provides a unique geological spectacle.
Hingol National Park: Biodiversity Sanctuary Established in 1998, the park spans 6,100 square km, featuring unique structures like the Princess of Hope and the Sphinx.
Gwadar Cricket Stadium: A Picturesque Venue Fakhr-e-Alam's viral pictures of this stadium have made it a global talking point, praised for its scenic beauty.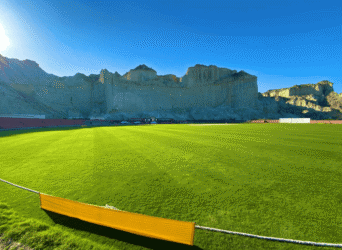 The Sphinx: Nature's Artistry Hingol National Park hosts a naturally formed Sphinx, captivating travelers with its sharp features and towering headpiece.
Astola Island: The Seven Mountain Island Known as the Seven Mountain Island, Astola is a natural wonder 40 km from the Arabian Sea, accessible by boat.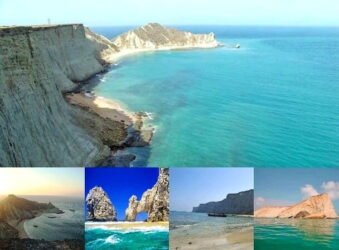 Baba Chandrakup: Mud Volcano A significant Hindu pilgrimage site, Baba Chandrakup is known for spewing mud instead of lava, attracting religious devotees.
Pasni Beach: Coastal Serenity Located in the Gwadar district, Pasni's small-town charm and pristine beaches make it a delightful tourist spot.
Jiwani Beach: Fishing Hub Jiwani Beach, a commercial hub for the fishing industry, offers serene boating and fishing experiences.
Hammerhead: Iconic Peninsula Gwadar's iconic peninsula, resembling a hammerhead shark, boasts distinctive shapes and stunning coastal views.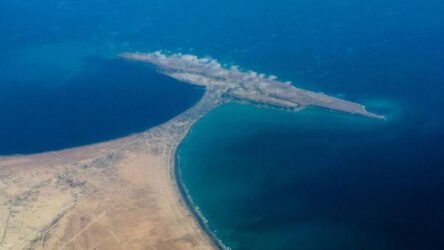 Gwadar Port & Beach: An Economic Hub Gwadar's longest deep port, integral to CPEC, offers clear blue waters and beautiful beaches. The area hosts a renowned five-star hotel.
When to Visit Gwadar: Top Tourist Places to Visit in Gwadar
While Gwadar welcomes tourists year-round, the best time is between September and March, with favorable tides and weather conditions. However, December to February experiences colder temperatures.
Read More: Bids Invited for Hunting Permits for Markhor
How to Reach Gwadar: Accessible Routes
Located 8 hours from Karachi via the hub and Makran highway, Gwadar is accessible through scenic routes featuring Kund Malir beach, Hingol National Park, and Ormara Beach.
27 Places to Explore in Gwadar: Top Tourist Places to Visit in Gwadar
Akara Kaur Dam: Water Oasis Providing water to Gwadar, this dam spans 6,900 hectares, offering a unique attraction for recreation.
Marine Drive: Coastal Elegance A breathtaking road along the Arabian Sea, Marine Drive connects various real estate projects and societies, offering stunning sea views.
Koh-e-Batil: Panoramic Heights This 475-meter-high peak offers panoramic views of Gwadar, a perfect spot for adventurous travelers.
Gwadar Cricket Stadium: Sporting Beauty Inaugurated in 2020, this stadium is praised for its international standards, scenic backdrop, and lush green surroundings.
Sunset View Park: Evening Serenity Situated on Hammerhead peninsula, this park provides a mesmerizing view of the Arabian Sea's sunset.
Mishkan Beach: Hidden Gem A lesser-visited beach, Mishkan offers golden dunes, adventurous landscapes, and a serene environment.
Gwadar Port: Economic Hub A newly built port, economically linking Pakistan to the Middle East and Central Asia, attracting visitors with fishing and boating opportunities.
Astola Beach: Offshore Paradise The largest offshore island near Pasni, Astola offers pristine waters, diverse marine life, and a serene experience for travelers.
Ormara Beach: Historical Resting Stop Once a resting stop for Alexander the Great, Ormara Beach is now a popular naval base and tourist hotspot.
The Sphinx: Natural Wonder Hingol National Park features a naturally occurring Sphinx, capturing the fascination of travelers worldwide.
Jiwani Beach: Commercial Serenity Jiwani serves as a commercial port and town, offering angling, drifting, and a unique mangrove forest.
Princess of Hope: Geological Marvel Located in Hingol National Park, this rock formation is considered a statue, attracting visitors with its impressive appearance.
Buzi Pass: Spectacular Views Along Makran Coastal Highway, Buzi Pass offers stunning views, creating lasting memories for visitors.
Hingol National Park: Biodiversity Wonderland Pakistan's most significant national park, Hingol boasts diverse flora, fauna, and natural structures, attracting wildlife enthusiasts.
Akara National Park: Wildlife Sanctuary A beautiful national asset in Gwadar, Akara National Park offers wildlife, natural landscapes, and a clean atmosphere.
Daran Beach: WWF-Protected Haven A protected area due to turtle nesting, Daran Beach provides a serene environment for camping, stargazing, and swimming.
Ganz Beach: Surfing Paradise Located near the Iran border, Ganz Beach is known for its surfing waves, consistent tides, and picturesque mountains.
Baba Chandrakup: Sacred Mud Volcano A unique volcano where mud, not lava, erupts, Baba Chandrakup holds significance for Pakistan's Hindu community.
Kund Malir: Scenic Roadside Attraction An awe-inspiring beach in Hingol National Park, Kund Malir offers a unique and inspiring route for travelers.
Pasni Beach: Fishing Port Charm A small town with a destined fish harbor, Pasni Beach captivates visitors with its golden dunes and clear Arabian Sea.
Gwadar Desert: Desert Safari Delight Crossing the river bridge in Hingol National Park, Gwadar Desert provides an ideal setting for desert safari enthusiasts.
Zalzala Island: Seismic Formation Formed after a 2013 earthquake, Zalzala Island showcases a short-lived geological wonder, attracting curious visitors.
Shahi Bazar: Cultural Marketplace Stretching 2 km from Pakka Qila to Market Tower, Shahi Bazar is renowned for Pakistani and Indian food items and diverse commodities.
GDA Central Park: Family Retreat Located on Jinnah Avenue, GDA Central Park offers swings, rides, and open spaces for families to enjoy their time.
Hammerhead: Geological Marvel Shaped like a hammerhead shark, Gwadar's iconic peninsula offers stunning coastal views and famous beaches.
Gwadar Bay: Strategic Inlet Situated in the Gulf of Oman, Gwadar Bay serves as a strategically critical inlet, connecting Pakistan to the Middle East and Iran.
Sapat Beach: Serene Getaway A tourist hotspot in Lesbela district, Sapat Beach offers breathtaking views of mountains, a serene environment, and opportunities for camping, stargazing, and swimming.
Frequently Asked Questions (FAQs): Top Tourist Places to Visit in Gwadar
Which place is Most Famous in Gwadar? While Gwadar boasts various attractions, Hingol National Park stands out for its rock formations, diverse flora and fauna, and captivating landscapes.
Why is Gwadar famous? Initially a small fishing village, Gwadar gained fame with its strategic port, economic importance in CPEC, and hidden natural treasures, attracting tourists worldwide.
Is Gwadar worth visiting? Absolutely! Gwadar's diverse landscapes, beautiful beaches, and unique attractions make it a worthwhile destination for travel enthusiasts.
What are the Best things to do in Gwadar? Gwadar offers a range of activities, including sightseeing, beach walks, boating, swimming, desert safaris, and off-roading for adventurous souls.
Is Gwadar beautiful? Indeed, Gwadar's beauty lies in its golden deserts, pristine beaches, and the vast Arabian Sea, making it a picturesque destination for nature lovers.
Importance of Gwadar
Here is why Gwadar is a significant city of Pakistan:
China-Pakistan Economic Corridor (CPEC):
The CPEC is a collection of infrastructure projects, including the development of Gwadar Port, connecting Gwadar to China's northwestern region of Xinjiang.
It aims to enhance economic ties between China and Pakistan, providing China with a more direct route to the Arabian Sea and offering Pakistan economic development opportunities.
Gwadar's Economic Significance:
Gwadar Port, a key component of CPEC, is strategically located at the crossroads of international sea shipping routes.
The port has the potential to become a major trade hub, attracting investment and facilitating trade between the Middle East, Central Asia, and beyond.
Tourist Infrastructure:
Recent development projects in Gwadar have focused on improving tourist infrastructure, including hotels, resorts, and recreational facilities.
The growing tourism sector is contributing to the local economy and providing employment opportunities.
Gwadar's Geostrategic Importance:
Gwadar's location offers geopolitical advantages, providing China with an alternative route for its energy imports and reducing its dependence on the Strait of Malacca.
The port's development has also led to increased maritime security concerns and international attention.
Government Initiatives:
The Pakistani government has implemented various policies and initiatives to promote tourism in Gwadar, recognizing its potential as a tourist destination.
Infrastructure development, including roads and airports, has been a focus to improve accessibility.
Gwadar Master Plan:
The Gwadar Master Plan outlines the city's development strategy, including residential, commercial, and industrial zones.
The plan aims to ensure sustainable urban development and address the city's future needs.
Connectivity:
Gwadar is accessible by road from major cities in Pakistan, and there are plans for further improving road and rail connectivity.
Gwadar International Airport caters to domestic and international flights, contributing to increased tourism.
Investment Opportunities:
Gwadar presents investment opportunities in real estate, hospitality, and tourism-related businesses.
The government encourages both local and foreign investors to participate in the city's development.
Local Culture and Cuisine:
Gwadar boasts a rich cultural heritage, with influences from Baloch, Sindhi, and Persian cultures.
Local cuisine includes seafood specialties, reflecting the city's coastal location.
Environmental Conservation:
Efforts are being made to balance development with environmental conservation, particularly in areas like Hingol National Park, home to diverse wildlife and natural formations.
Security Measures:
Due to its geopolitical significance, security measures have been implemented in and around Gwadar to ensure the safety of residents, tourists, and infrastructure.
International Collaboration:
Gwadar's development has garnered interest and collaboration from international stakeholders, including countries interested in maritime trade routes and economic partnerships.
These aspects contribute to the multifaceted transformation of Gwadar, making it a dynamic city with economic, geopolitical, and tourism potential.
Conclusion: Top Tourist Places to Visit in Gwadar
Top Tourist Places to Visit in Gwadar have evolved into a captivating tourist destination, unveiling its natural wonders and economic significance. With ongoing development projects and increased accessibility, Gwadar invites travelers to explore its hidden beauty, making it a must-visit on the global tourism map. Gwadar's Top Picnic Spots for Family Vacations on a Budget are mentioned above, and let us know in the comment section, if you liked them.
Note: The information above might not be accepted 100%. Please verify from your own sources. We will not be responsible for any kind of loss due to our content.
For more news, please visit Munafa Marketing.