Islamabad: Rs. 13000 Discount on Electricity Bills in Pakistan. The interim caretaker government is taking steps to give relief to the inflation-stricken nation and reduce the heavy burden of electricity bills for consumers. According to government sources, consumers utilizing up to 300 units of electricity will get a relief of Rs 3,000 on their bills. But with every minute of development, Pakistan`s proposal was allegedly rejected by the IMF to provide relief to poor people with high electricity bills.
In short, a common ground has not been achieved by the government and IMF in providing any kind of relief so far. Although this relief amounted to a mere Rs. 6.5 billion, but still, the IMF refrained from approving it. Now, once again, the ball is in the government`s court.
In a development in September 2023, the Caretaker Federal Minister for Energy, Power & Petroleum, Muhammad Ali, stated that the revised power tariffs would be applicable before October 31st, 2023. He also mentioned that re-negotiating terms with IMF is not possible at the moment, and we have to continue this way.
September 2023 Development
The good news is that in a recent development, the IMF has now finally allowed a small relief of up to 200 units over three months. In return, the government has to increase the gas prices by up to 50% or 60% from July. Initially, the government had asked the IMF to provide relief for up to 400 units per month, which will be beneficial for 32 million consumers or 81%. But later on, a discount for 200 units was awarded.
Consumers utilizing 100 units will be asked to pay Rs. 24.21 per unit.
Consumers using 101 to 200 units per month will be paying Rs. 30.68 per unit.
In addition, the government has also vowed to take measures to stop electricity theft and against defaulters.
Moreover, consumers who have bills extending from 60,000 to 70,000 rupees can expect relief of up to 13,000 rupees in the month of October.
This price hike came as a result of the agreement with the International Monetary Fund (IMF) which happened earlier this year by the previous government when the IMF approved a short-term $3 billion bailout package for Pakistan.
Due to these unbearable increases in the electricity unit tariffs, people have come out on the streets to record their anger and frustration in the form of protests.
It is pertinent to mention that the government has dropped the tax bomb on the people by including an extra 9 taxes on electricity bills.
People are left with no choice but to sell their house items and pay the bills, or they will be left with the absence of electricity in peak summer times.
While dealing with public pressure, the government talked to the IMF for Rs. 13000 Discount on Electricity Bills in Pakistan.
| | |
| --- | --- |
| Taxes/Surcharges/Fee | Details |
| General Sales Tax | 17% |
| Electricity Duty | 1-1.5% |
| Income Tax | Charged at different rates |
| Sales Tax | 5-7.5% |
| Further tax | 3% |
| Extra Tax | 5-17% |
| Fuel Price Adjustment (FPA) | It is the fuel charges component for the specific month |
| PTV Liscence Fee | @Rs. 35/- |
| Financing Cost Surcharge (FSC) | Rs.0.43/kWh |
Read more: Petrol Price to Rise up to Rs. 12 per Liter from September 2023
After the recent hike in electricity prices, increased taxes, and the high electricity bills, protests have erupted all over the country. Different political parties, traders, and people from civil society have announced wheel jam strikes and protests.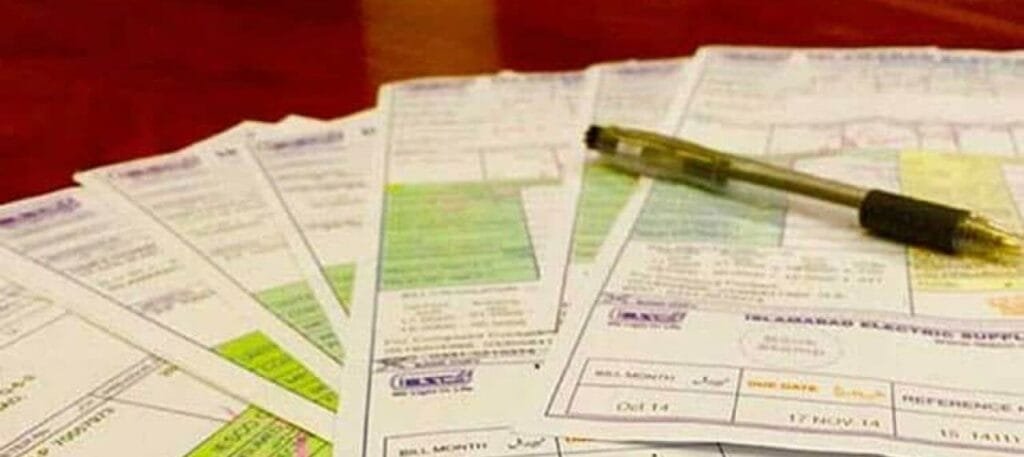 In response to these nationwide protests, the interim setup is clearly under pressure and is engaging in a talk with the International Monetary Fund (IMF). This was done to offer immediate relief from high electricity bills and allow consumers to pay electricity bills in installments.
The bills have affected not just the poor segment of society but the upper class as well. In this regard, several showbiz stars such as Nadia Khan and Sadia Imam have also shared that they received hefty bills of up to Rs. 67,000 and are not considering a solar panels shift.
Read more: Good News: Imran Khan wins bail in several cases
Reportedly, after a detailed discussion with IMF representatives, they have requested more information and data to decide whether they will agree to this relief package or not. Despite the government's hopefulness for a quick response within 48 hours, the wait continues after the deadline has passed, and people are still looking for Rs. 13000 Discount on Electricity Bills in Pakistan.
While discussing the matter, the political turmoil is much to blame since the regime change in April 2022. After the dissolution of Assemble in August 2023, the caretaker Law Minister met President Arif Alvi to discuss General Elections. In 2nd week of September 2023, President Alvi proposed the 6th of November as the election date. Now, time will show if his recommendation will be implemented or not.
Rumors are that Pakistan might see its first "Interim President". On the other hand, lawyers are also threatening to launch a "lawyer movement", for the restoration of the constitution while following the abduction-like arrest of PTI President Parvez Elahi by Islamabad Police.
Later, IG Islamabad was given contempt of Court by the Lahore High Court. The breaking news was not over; the news of a Navy Helicopter crashing in Balochistan was also reported on the 4th of September, 2023, adding to the grief of the public.
Read More: Quran Burned in Sweden: Clashes Erupt in Malmo
Here, people are still suffering from high bills, and sugar prices in Pakistan have also soared up to Rs. 185 per kg. Reportedly, Myanmar has also complained to Pakistan that their provided Jf-17 thunder fighter jets are malfunctioning and had to ground them until further notice. Reportedly, the rumors of 97billiom recovery from Shazia Marri are further discomforting the impoverished segment.
But the good news in such misery has made the nation proud that a Pakistan Airforce Contingent in Egypt has showcased their skillful capability in an airshow called "Bright Star". Moreover, India and Pakistan might set up direct trade, and friendly countries like UAE and Saudi Arabia might give Pakistan $25 billion to save the sinking ship.
Now, talking of our flourishing neighbors, netizens are comparing the worst economic conditions with them. India will be holding the G-20 Summit in New Delhi from 9-10 September after successful launches of Moon and solar missions. The moon rover of the Chndryaan 3 mission has completed the moonwalk and is put into sleep mode for further exploration. However, China and Russia might not attend the Summit. Whereas the United Nations (UN) has also shown disappointment in its response to Manipur abuses.
All such wonderful news is adding to the misery of the poor people of Pakistan who are grappling with an uncertain future. Let`s hope that the government offers relief to the needy.
For more information, please contact Munafa Marketing.