ISLAMABAD: Radisson Blu Hotel Islamabad is brought to you by Radisson Hotel Group. As per preliminary sources, two new hotels, Radisson Blu Hotel & Residences and Radisson Hotel Islamabad Multi Gardens, will soon be part of Islamabad. The expected launch date might be 2025. Radisson Hotel Group is an international hotel chain. Many entities rank it 4th Best Employer in the Travel and leisure industry by Forbes.
It is spread over the world and has more than 1,160 hotels in operation and many under development all over Europe, Africa, the Middle East, and the Asia Pacific Region. If you are a resident of #Islamabad, then it is of utmost importance news to you that the gap of an international hotel brand is now finally going to start its operation within three years.
Read more: Eighteen Heights Islamabad
Radisson Blu Hotel Islamabad
As per the reports, Radisson Blu Hotel & Residences, Islamabad, will be the first internationally branded serviced apartments in the country. The location will be in Mumtaz City Islamabad, near Islamabad International Airport. The reports also suggest that it will offer around 400 rooms, suites, and serviced apartments.
There will be a shopping mall with retail and entertainment options, corporate business floors, lounges for executives and airline crew, and a banqueting area.
Read more: Imarat Builders Mall Islamabad
On the other hand, Radisson Hotel Islamabad Multi Gardens will be part of the J7 Emporium, a multi-purpose complex. The hotel will consist of 165 rooms, including four executive suites. These will feature Radisson's signature natural surroundings and Scandinavian-inspired hospitality. It will allow guests to find peace and harmony in their travel experience. The hotel will have a rooftop restaurant with breathtaking views of the Margalla Hills and the city.
Read more: Mall of IMARAT Islamabad
The developers of this project are J7 Group. The group is excited to collaborate with the Radisson Hotel Group. CEO of J7 Group, Yaseen Mehsud, said, "We feel that there is great potential in the hospitality segment in Pakistan, and the demand for international standard hospitality services remains untapped."
Read more: DHA Islamabad Phase 9
Elie Milky, Vice President of Development Pakistan, the Middle East, Greece, and Cyprus, Radisson Hotel Group, said, "The group is thrilled to execute the development strategy in Pakistan by bringing two hotels to Islamabad and providing guests with world-class hospitality experiences in this dynamic city."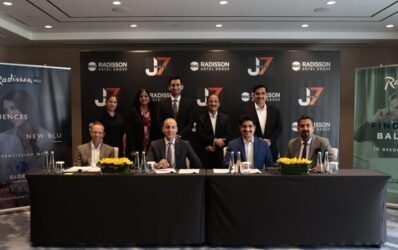 The development of these projects will be a monumental task but a significant achievement for the hospitality sector of Pakistan.
For more details, contact the Munafa Marketing.