Toyota Fortuner GR Sport is ready to rock your world and make your dreams come true. In a thrilling development for car enthusiasts, Toyota has unveiled the new Fortuner GR Sport, a powerful and sporty variant of the well-loved Fortuner.
The launch of this SUV has generated considerable excitement among fans and experts alike, and for good reason.
The Fortuner GR Sport combines the rugged reliability of the Fortuner series with a bold sporty twist, promising a driving experience like no other.
keep reading for exterior and interior images in the later sections.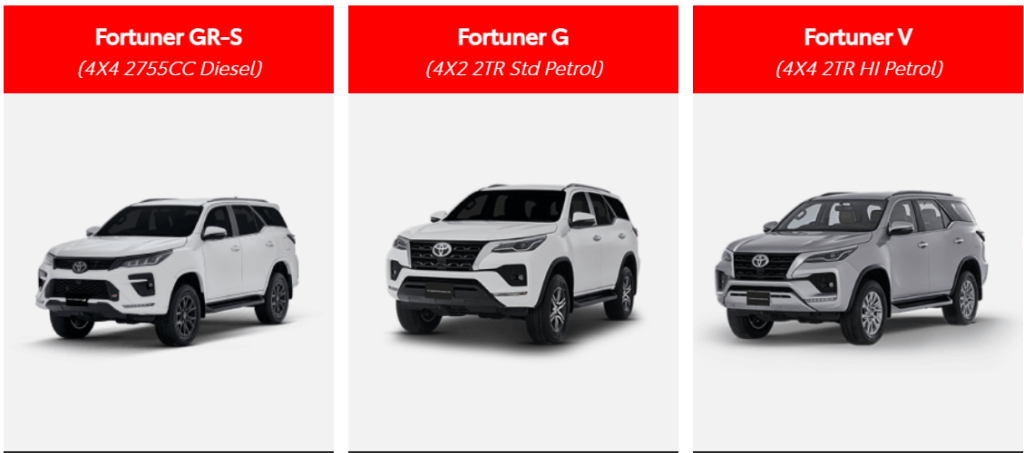 The Toyota Fortuner Legacy
The Fortuner is a staple in Toyota's impressive lineup of SUVs. Known for its robust build, off-road capabilities, and spacious interior, it's no surprise that the Fortuner has gained a dedicated following worldwide. The Fortuner embodies Toyota's commitment to producing vehicles that offer durability and versatility, suitable for both urban and off-road adventures.
Read More: Hilux GR Sport II Revealed
Introducing the Fortuner GR Sport
The new Fortuner GR Sport takes the legacy of this SUV to a whole new level. The "GR" in its name stands for "Gazoo Racing," Toyota's motorsport division, indicating a strong connection to performance and sportiness. This SUV is designed for those who seek the thrill of adventure combined with the precision of a sports vehicle.
Performance Enhancements
Under the hood, the Fortuner GR Sport boasts an impressive 2.8-liter turbodiesel engine. This powerplant generates a substantial 201 horsepower and 500 Nm of torque. The Fortuner GR Sport is available with a 6-speed automatic transmission, ensuring a smooth and responsive drive. These enhancements in the powertrain contribute to a more spirited driving experience compared to the standard Fortuner.
Aerodynamic Design
The Fortuner GR Sport's design has also seen a significant overhaul. It features a more aggressive and aerodynamic front bumper, enhancing its sporty appearance. The front grille, accentuated by a prominent Gazoo Racing badge, gives the SUV a distinctive look. Additionally, it's equipped with 18-inch alloy wheels and subtle GR Sport badging throughout, reinforcing its athletic character.
Read More: BYD Considering Investment Opportunities in Pakistan
Fortuner GR Sport: Sporty Interior
The interior of the Fortuner GR Sport is designed with a sporty mindset. The seats are adorned with leather upholstery and red stitching, complemented by GR Sport embroidery on the headrests. The red stitching continues to accent the dashboard, steering wheel, and gear shift, further emphasizing the sporty vibe. The Fortuner GR Sport offers a more dynamic driving position, ensuring you feel in complete control of this high-performance SUV.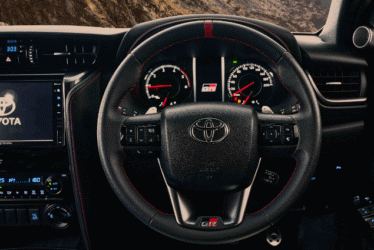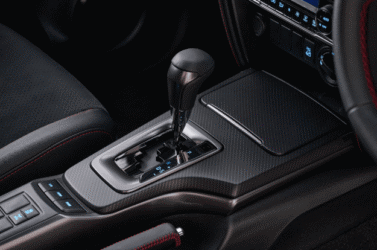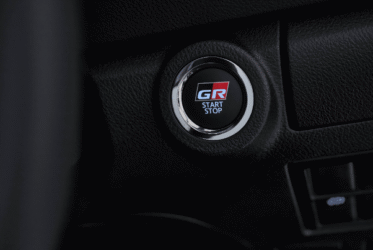 Fortuner GR Sport: Sporty Exterior
The exterior of the Toyota Fortuner GR Sport exudes a bold and sporty persona. It features a redesigned front bumper with an aggressive stance, creating a dynamic and aerodynamic look. The prominent Gazoo Racing badge on the grille announces its sporting pedigree. With 18-inch alloy wheels and discreet GR Sport badging throughout, it's clear that this SUV means business.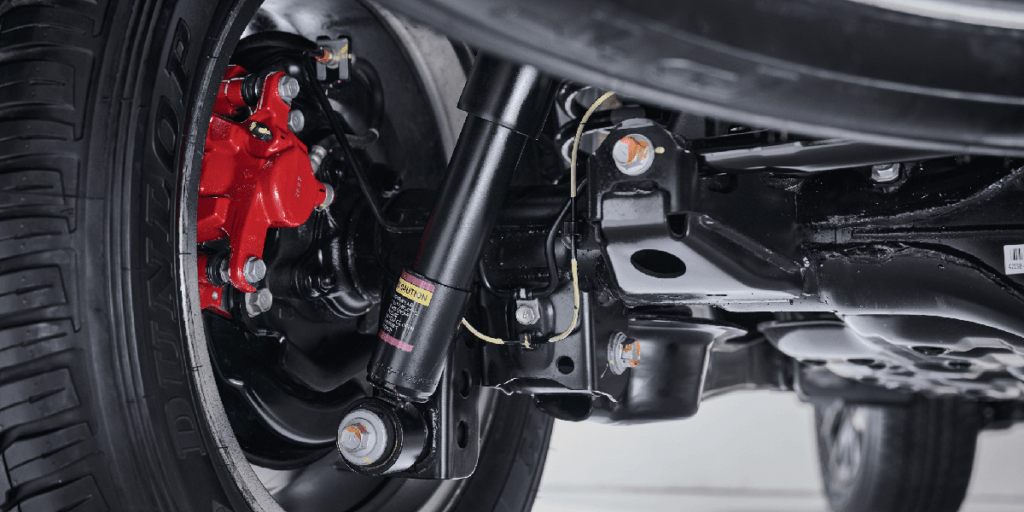 The Fortuner GR Sport's exterior design not only enhances its aesthetics but also contributes to its overall performance, making a powerful statement on the road or in challenging off-road environments. It's a perfect blend of form and function for those seeking adventure and style.
Advanced Technology
Beyond the performance and design, the Fortuner GR Sport comes equipped with advanced technology. It includes a user-friendly infotainment system with a touchscreen display, offering seamless connectivity through Apple CarPlay and Android Auto. A suite of safety features, including adaptive cruise control, lane departure warning, and autonomous emergency braking, ensures your peace of mind on the road.
Off-Road Capability
Despite its sporty inclinations, the Fortuner GR Sport retains the excellent off-road capabilities of its predecessors. The four-wheel-drive system, along with rear differential lock and multiple terrain modes, makes it well-suited for those who love exploring rough terrains.
Read More: Hyundai Santa Fe Signature Vs Haval H6 HEV
Global Release
The Fortuner GR Sport is not exclusive to a single market. Toyota plans to release this exciting SUV in various countries, allowing a broad audience to experience its powerful and sporty performance.
Conclusion
The Toyota Fortuner GR Sport is a promising addition to the SUV market. It combines the proven durability and versatility of the Fortuner series with a new sporty edge. Whether you're looking for a vehicle that can handle the great outdoors or prefer a thrilling driving experience in urban settings, the Fortuner GR Sport aims to deliver. It's an exciting time for SUV enthusiasts, as Toyota continues to innovate and offer more choices in this ever-evolving segment.
Note: The information above might not be 100% correct. Please verify from your own sources.
For more news, please visit Munafa Marketing.