GiGi EV at Pakistan Auto Show 2023 revealed to the potential buyers. On the first day of the Pakistan Auto Show PAPS 2023, a myriad of brands have made their presence known, introducing their latest offerings. Pictures are at the end.
Read More: Suzuki Alto Price in Pakistan & Specs
Among them, Honda garnered attention, but one standout participant was GiGi EV, a remarkable addition to the Pakistani automotive landscape.
Read More: BYD Considering Investment Opportunities in Pakistan
This electric vehicle, manufactured by GuGo Motors, brings together style, efficiency, and cutting-edge technology in a rapidly evolving electric vehicle market.
GIGI EV Mini Car Price in Pakistan 2023
The GIGI EV is priced at PKR 4.65 million (or 46.5 lakhs) and can only be obtained through pre-order, with an estimated short 30-day delivery time. At present, it is not produced in Pakistan, but the company is striving to modify this situation.
Read More: Rs. 13 Lacs Decreased in Toyota Car Prices
GiGi EV Performance
Beneath the hood, GiGi EV boasts a robust electric/battery setup:
Motor Power/Max Torque: 30 kW (40HP) / 100 N.m
Battery Type/Capacity: Lithium iron phosphate battery / 16.8 kWhr (112VDC)
Charging Power/Rate: 3.3 (4-5 hr) – 40 km/hr
NEDC Range/Max. Speed: Impressive range and a top speed to match
Equipped with a Permanent Magnetic Synchronous Machine and automatic transmission, GiGi EV ensures a seamless and hassle-free driving experience, catering to both seasoned drivers and newcomers alike.
Read More: Mercedes-Benz Conducts World's First Public EV Crash Test
GiGi EV Chassis and Suspension
Navigating the roads becomes a breeze with GiGi EV's meticulously designed chassis and suspension:
Driving Type: Rear-wheel drive for optimal control
Wheel: Stylish Aluminum Alloy wheel (145/60 R13)
Suspension: Front MacPherson independent suspension and Rear Multi-link non-independent suspension for a comfortable ride
Advanced Safety Configurations
GiGi EV places safety at the forefront, featuring an array of advanced safety measures:
Air Bag: Driver's seat airbag for added protection
Power Cut Protection in Collision: Ensures safety in unexpected situations
Safety Belt Warning: A reminder to prioritize safety
Additional Features: ABS + EBD, ESP/ESC, EBA/BAS/BA, ASR/TCS/TEC, ARB, Auto-hold Brake, EDR, Reverse Camera, TPM, Parking Radar, and Anti-Theft Mechanism with Remote Control
Read More: Toyota Fortuner GR Sport
Smart Interior
GiGi EV doesn't stop at performance; it enhances your driving experience with:
Sun Visor: Double visor with a make-up mirror for the driver
Steering Wheel: Multifunctional steering wheel for easy control
Climate Control: Enjoy a comfortable ride with efficient climate control
Tech & Media Marvel
Stay connected and entertained with the EV's advanced tech features:
Electronic Shift/Mode: Choose between Economy and Sport modes for a personalized driving experience
Infotainment System: A large 8.8-inch MPS display for a tech-savvy ride
Energy Vehicle Configuration
GiGi EV represents a leap towards a sustainable future:
On-Board AC Charging: Convenient charging on the go
Charging Cable: Easy access to charging cables
Charging Status Display: Stay informed about your charging progress
Power Management Display: Optimize your power usage
Charging Port Cover Open Reminder: A thoughtful feature for your convenience
Smart Charging 12V: Efficiency meets innovation
GiGi EV Pictures:
GuGo Motors Introduces GiGi EV in Pakistan at PAPS Show 2023 marking a significant step towards stepping into the future of electric vehicles.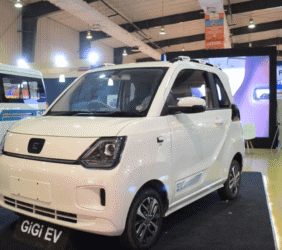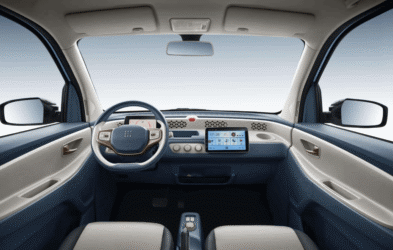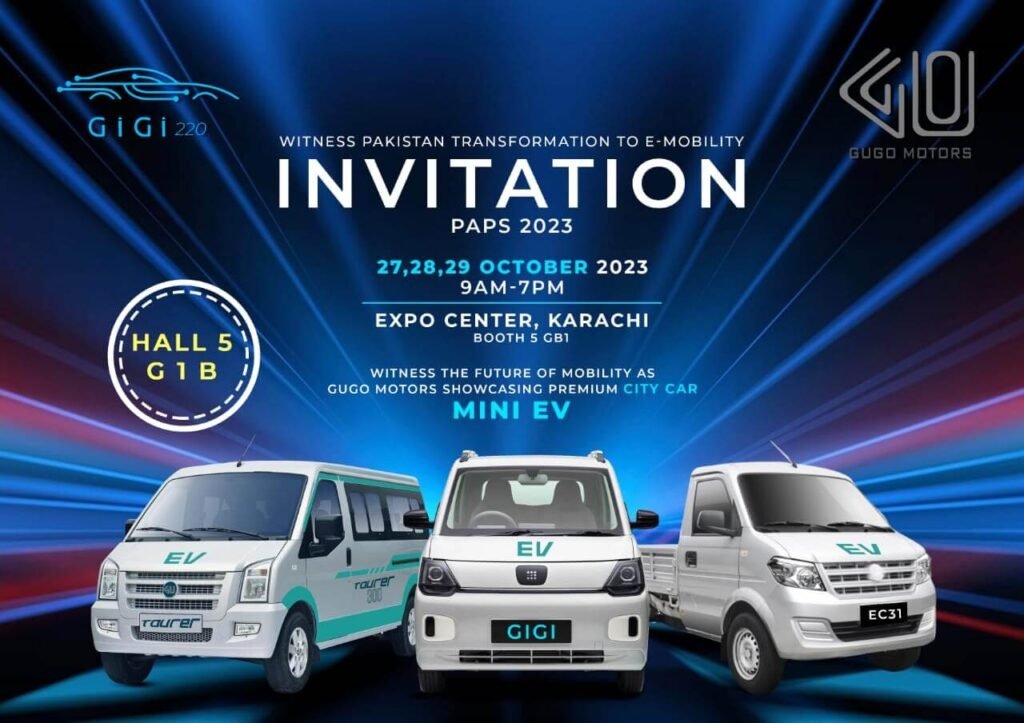 Note: The information above might not be accepted 100%. Please verify from your own sources.
For more news, please visit Munafa Marketing.