NASA's OSIRIS-REx Capsule landed on 23rd September, bringing the most valuable cargo in the world to humanity from asteroid Bennu. NASA's OSIRIS-REx capsule just landed back on Earth safely seven years after launching into space to collect asteroid Bennu sample.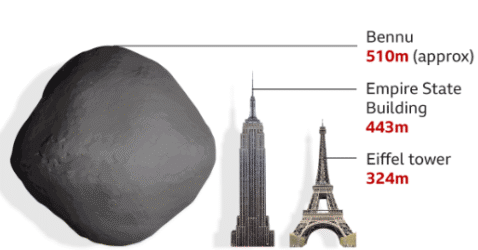 The historic touchdown was in the Utah Test and Training Range on 23 September 2023.
NASA has obtained samples from an asteroid for the first time. The sample return capsule is 110-pound 31-inch-wide, loaded with a half-pound of precious regolith (rock and dust) collected in 2020 from the asteroid Bennu.
Read More: NASA UFO Report Denies Alien Presence
OSIRIS-REx's journey was long to achieve its primary goal to obtain a sample of at least 60 g from the asteroid.
Here is the timeline of events:
OSIRIS-REx was launched on 8 September 2016 from Cape Canaveral Space Force Station in Florida.
NASA confirmed on 3 December 2018 that OSIRIS-REx had reached the orbit of Bennu and acquired the speed at a distance of about 19 km.
OSIRIS-REx performed closer passes of the asteroid Bennu's surface and spent the next two years studying the surface to find an ideal site to collect a sample.
OSIRIS-REx reached closest to the asteroid Bennu on 31 December 2018 at about a distance of 1.75 km.
NASA selected four sample sites named Nightingale, Kingfisher, Osprey, and Sandpiper.
NASA announced on 12 December 2019 that they had selected Nightingale as the main sample site and Osprey was selected as the backup site.
A successful rehearsal was performed on 15 April 2020 from as close as 65 m from the Bennu's surface at the Nightingale sample site.
A second rehearsal was successfully completed on 11 August 2020, bringing OSIRIS-REx down to 40 m from the Bennu's surface.
OSIRIS-REx touched down with Bennu on 20 October 2020 and successfully collected a sample from the Nightingale site.
OSIRIS-REx mothership closed and sealed the sample return capsule on 28 October 2020 and released the sample return capsule.
OSIRIS-Rex began to slowly drift away from the asteroid Bennu on 7 April 2021 to return back to Earth.
OSIRIS-REx left the Bennu vicinity on 10 May 2021 and began its two-year-long journey to Earth with the asteroid sample.
OSIRIS-REx return capsule entered Earth's atmosphere on 24 September 2023 and landed at Utah Test and Training Range, 3 minutes earlier than predicted.
According to NASA, it will take several weeks to carefully fully open the hardware of the capsule to reveal the pristine asteroid inside.  Scientists will study the sample of asteroid in a dedicated clean room inside the Johnson Space Center.
Read More: Treasures on South Pole of Moon
NASA has scheduled a press conference for 11 October to provide a first look at the samples and briefing about the preliminary findings by its scientists.
NASA confirmed that the mission of the OSIRIS-REx mothership is extended after dropping off its sample to Earth. The mission will now become OSIRIS-Apex (Apophis Explorer) from OSIRIS-Rex (Regolith Explorer).
Read More: Gulf Countries Deserve Part in Space
As its new name suggests, its next target will be the near-Earth asteroid 99942 Apophis. Apophis will make an extremely close pass to the Earth on 13 April 2029. The spacecraft will collect samples from 99942 Apophis in a similar manner as it collected samples from asteroid Bennu.
For more information, you may visit Munafa Marketing.