Emirates Makes $52 Billion Deal With Boeing At Dubai Airshow.
Dubai's Emirates seals a groundbreaking $52 billion deal with Boeing for an additional 90 aircraft at the Dubai Airshow.
"Emirates is the biggest operator of Boeing 777 aircraft, and today's order cements that position," said HH Sheikh Ahmed bin Saeed Al Maktoum, Chairman and Chief Executive, of Emirates Airline and Group. "We've been closely involved in the 777 programs since its start-up until this latest generation of 777X aircraft. The 777 has been central to Emirates' fleet and network strategy of connecting cities on all continents non-stop to Dubai. We are pleased to extend our relationship with Boeing and look forward to the first 777-9 joining our fleet in 2025."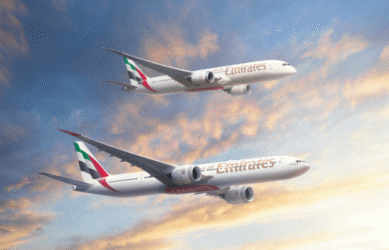 Read More: Fly Jinnah Increases Flights Frequency on Three Key Routes
This mega-deal, witnessed by the emirate's crown prince, elevates Emirates' total orders to 295 planes, emphasizing its commitment to Boeing's 777 series.
"This order is an incredible vote of confidence in Boeing's highly efficient widebody family and the versatility of our 777X and 787 airplanes to meet Emirates' needs for global long-haul travel," said Stan Deal, president and CEO of Boeing Commercial Airplanes. "The 777-9 and 777-8 are the perfect airplanes to support Emirates' growth, improving environmental performance and unmatched payload capability along the way."
The order includes GE-9X engines and extends the airline's operational capabilities until 2035.
Read More: Pakistan and Qatar Explore Opportunities to Enhance Defense Cooperation
Sister airline flyDubai also joins the Boeing frenzy with an order for 30 787-9 jets, marking its first venture into wide-body aircraft.
This strategic move reinforces Emirates' position as a global aviation leader. #Emirates #BoeingDeal #DubaiAirshow #AviationNews
Emirates Makes $52 Billion Deal With Boeing at Dubai Airshow has raised many eyebrows but the gigantic deal is a reflection of decades-old relationship.
The 777-9, Boeing's revolutionary twin-engine jet, redefines air travel with unparalleled fuel efficiency and operating cost per seat. With a seating capacity of 426 passengers in a two-class configuration and a range of 13,510 km, it unlocks new growth prospects for airlines.
Its counterpart, the 777-8, accommodates 395 passengers, offering extended range capabilities up to 16,190 km, presenting airlines with increased revenue potential.
Boeing's 787, the industry's versatile widebody jet, stands out for its superior efficiency and passenger comfort. With up to 25% reduced fuel use and emissions, it operates across all network segments, providing passengers with larger windows, enhanced air quality, and technology for a smoother ride.
Boeing's 2023 Commercial Market Outlook forecasts that widebody airplanes will constitute 45% of deliveries to Middle Eastern airlines over the next two decades, reflecting the region's pivotal role in global connectivity.
As a leading global aerospace company, Boeing is committed to innovation, sustainability, and community impact.
With a diverse team and a focus on safety, quality, and integrity, Boeing shapes the future of aviation, defense, and space systems worldwide.
Note: The information above might not be accepted 100%. Please verify from your own sources. We will not be responsible for any kind of loss due to our content.
For more news, please visit Munafa Marketing.